Handicare/Companion Stairlifts
What is the difference between Handicare and Companion?
It can be confusing for someone who doesn't have any knowledge of stairlifts, as a 'Handicare' lift can be known under a few different names. Handicare is the manufacturer who make the stairlifts, so 'Handicare' refers to the brand or make of lift. Any Handicare stairlifts have a 'Handicare' logo on the front of the lift, as well as stating Handicare on the label with the serial number. Handicare also install the lifts themselves direct.
The Handicare brand is sold by several installers such as Companion and Age UK, as well as smaller local installers, so it may be that it has been installed by another company. Handicare lifts can also be known as Minivator, but this is an older version of the brand that stopped manufacturing in 2013 and is not a product we can recycle.
Handicare offer a range of 3 straight stairlifts and two curved models suitable for a variety of homes.
What Handicare products can we purchase?
Handicare Simplicity 950
The Handicare 950 model is a straight stairlift which has been manufactured for over 8 years. The easiest way to identify it is to check the serial number. If the serial number starts with S it indicates you have the Simplicity 950 model. It is worth noting the seat usually has a separate serial number starting with SIM but this will not indicate the model. Dependant on stock levels we can usually purchase this type of stairlift under 5 years old.
Handicare 1100
The 1100 model is the newer straight stairlift manufactured by Handicare and fitted by a variety of installers. It is most often provided with powered swivel and sometimes a powered footrest (self-folding). The footrest is a off white colour, like the seat colour. This stairlift is particularly model and sleek looking making it an increasingly popular option.
Handicare 2000
The 2000 is one of the two curved models offered by Handicare. It is easily identified by its dual rail, which appears like two rails stacked on top of each other. The serial number also usually starts with M followed by digits. Regretfully what we can recycle is limited with this model, so please enquire for more information.
Handicare Van Gogh / Handicare Freecurve
This type goes by two different model names but is essentially the same type of stairlift. It is easily differentiated from the Handicare 2000 curved model by its single tubular rail, which is slim to save space. The operating control is an ergonomically designed toggle switch for ease of use.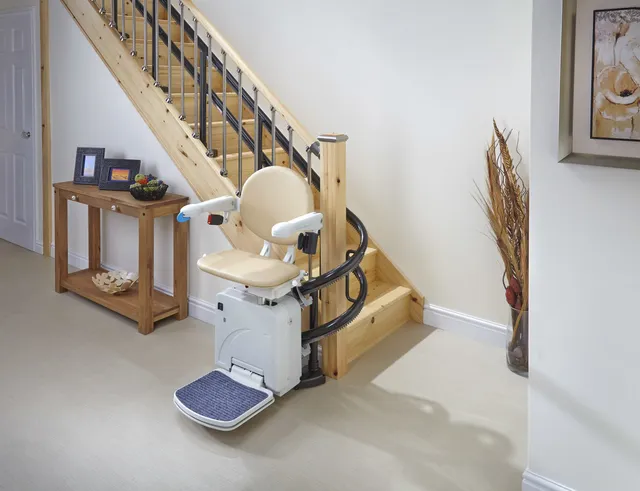 Wherever possible we aim to recycle curved Handicare stairlifts. Our ability to purchase the stairlift or offer free removal is dependant on our current stock levels. The best way to find out is to enquire via our contact form, and we will get back to you to let you know how best we can help. 
Unfortunately we are no longer able to recycle any Minivator products as they have not been manufactured since 2013. If you require your Minivator stairlift removing and disposing their would be a fee.
The best thing to do is locate the serial number. Usually there is a silver label on the side of the stairlift with the serial number on. Either take a photograph of it and email it to us, or give us a call and read it out and it will help us identify what age your stairlift is.
Contact us for a free quote today!
Simply enter your details below and a trusted representative will be in touch to provide your FREE no obligation quotation.
Easy to deal with and very polite. They were very quick to make an offer which we accepted. We approached three other Companies, none of which bothered to call us back. Pretty amazing as the stair lift cost £5,000 and was never used. Would definitely recommend. David
Good service all round from the office and the engineer: a prompt response to my initial enquiry; a comprehensive follow-up call to arrange removal date and to give me all the information needed; engineer phoned on the day to confirm arrival time; and the removal was quick, efficient and tidy.
After the passing of my wife the stairlift we had installed was no longer required. I contacted we buy any stairlift on a Saturday and 4 days later Lee turned up exactly on time and quietly and efficiently removed the stairlift. He cleaned the stairs and carpet paid me the money due and there was no way you could tell it had ever been there. A job well done. Thanks John