There are a variety of reasons why you might wish to get remove your stairlift. Perhaps a stairlift was already in the home when you moved in, or maybe the stairlift you purchased is no longer needed.
This guide is intended to answer any questions you may have about what to do with a stairlift once it is no longer required and provide the best possible advice.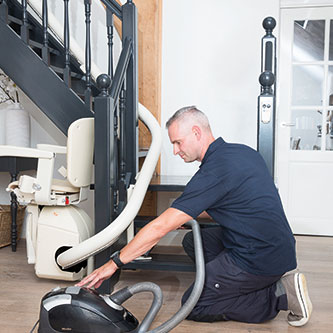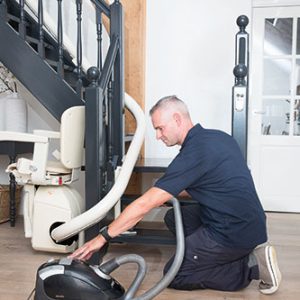 1)    Stairlift Removal Services
Professional stairlift removal can be completed quickly and efficiently by one of our highly trained engineers. Our engineers can remove almost all types of stairlifts (curved, straight and an assortment of makes and models) under 15 years old. The engineer would attend within a week and remove the stairlift in under an hour.
What's better, the service is completely free of charge if the stairlift can be recycled. We may even be able to purchase the stairlift from you, depending on the age and its second-hand value. If the stairlift cannot be recycled, for example if the stairlift is too old, we can still offer our removal services at a charge.
Stairlifts should only be removed by a skilled professional, as removing one yourself could cause damage to the fixtures and fittings of your home or damage the stairlift itself. It's possible you could also injure yourself severely in removing or carrying it due to its heavy weight.
2)    Scrap Your Stairlift
If you have had the stairlift removed by a professional, they will likely provide the option to dispose of it for you or leave it in your home. Most people opt for the removal company to take the stairlift away as it will then be disposed of in an ecologically friendly manner, without any hassle to yourself.
Another option is to take your removed stairlift to a scrap yard. You would likely need a van big enough to transport the stairlift to your local scrap yard to do this. Although, it is worth noting that stairlifts, particularly curved ones, have very little scrap value as they tend to be made from mixed materials. The scrap value for an average stairlift is around £10 but may be less depending on the type.
If a friend or family member offers to remove the stairlift safely for you, you must make certain that it is not disposed of illegally. Fly tipping is a criminal offence and dumping any waste can result in a significant fine.
3)    Can I Donate My Stairlift?
Unfortunately, we are not aware of any charities that accept second hand stairlifts. The main reason they do not accept stairlifts is because each lift must be fitted especially for the staircase and the users' requirements. A second hand stairlift would need to be carefully assessed and tested, reconditioned, adapted and made suitable for the new user's staircase which charities just do not have the resources to do.
We Buy Any Stairlift aim to recycle as many stairlifts as possible, so it is worth enquiring to see if we can help ensure your stairlift gets reused and does not end up in landfill.