What exactly do we mean when we refer to a 'straight' stairlift? It's quite simple, a straight stairlift has a rail that runs completely straight up the steps. There would be no bends, curves, or dips in the rail. The rails can vary in length depending on what is required for the installation. Around 70% of households will only require a Straight Stairlift, but occasionally a custom
curved
stairlift may be needed. Sometimes the installer will recommend a straight stairlift with the addition of some custom elements such as a hinge or slide track which is an addition to the rail that helps avoid obstructions such as a door at the top or bottom of the stairs. Straight stairlifts can also be upgraded with extra features such as a powered swivel so that the seat automatically turns to let the user dismount. A powered footplate may also be added so that it folds up automatically without the user having to bend down. These features can be particularly helpful for users who struggle with back pain or without much strength in their arms.
What types of Straight Stairlifts are there?
Acorn / Brooks:
Superglide 120 (discontinued)
Superglide 130 (discontinued)
Acorn 130 T700
Stannah:
Stannah 400 (discontinued)
Stannah 420 (discontinued)
Stannah 600
Handicare /Companion/ Age UK:
Handicare 950
Handicare 1000
Handicare 1100
Thyssenkrupp / Access:
We offer straight stairlift removal, and buybacks for current models. If you have an unwanted stairlift that you require removing, please get in touch on 0800 177 7266 or
Contact Us
for a response in less than 24 hours.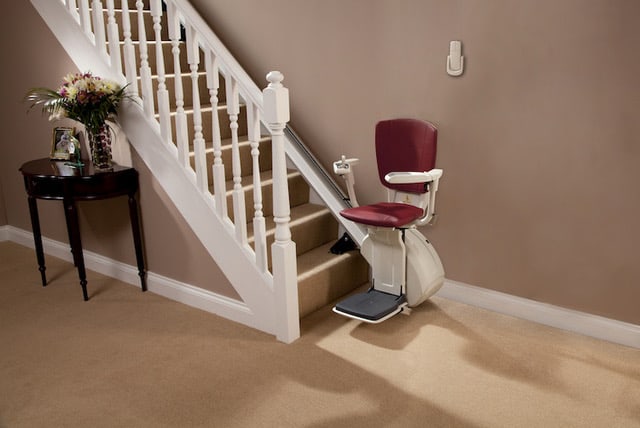 No, straight stairlifts must be straight all the way up the rail. If it has any bends, even if most of the rail is straight it is classed as a curved stairlift.
Unfortunately, we don't. We do however purchase the majority of makes and models if it is a current model that is being manufactured and under 5 years old. For more information on which straight stairlifts we can purchase fill in our contact form and a staff member will get back to you.
They are simpler to remove than curved stairlifts, and therefore take less time (around 30-45 minutes) but we would only recommend an experienced stairlift engineer removes it. Removing a stairlift yourself can be unsafe if you aren't an experienced professional.
Contact us for a free quote today!
Simply enter your details below and a trusted representative will be in touch to provide your FREE no obligation quotation.
We Buy Any Stairlift were very efficient from start to finish. They removed my straight Acorn stairlift and paid me for it when some companies wanted me to pay them! We were in a bit of a rush and they were able to come out and remove it within a week which made our lives so much easier. Would recommend them to anyone for stairlift removal
Big thanks to Lee the engineer who did a fantastic job removing our stairlift. Quick and easy process and the office staff Amy and Megan were friendly and efficient. Highly recommend We Buy Any Stairlift
They paid me cash for my straight stairlift and removed it for free. Engineer did a good job and didn't leave any mess behind. I had asked for a Friday appointment which they managed to arrange for me as well. 10 out of 10 service